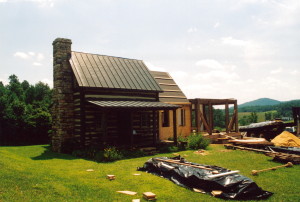 The owners of this cabin had seen some of my timber framed homes that I built after putting their cabin up (you know, the ones I've shared here on FB where I had used the antique structures salvaged from vintage homes) and they decided that that is what they wanted for the addition to their cabin.
I gave great thought to what type of structure would look best connected to this cabin and what would best compliment this parcel of land and what I eventually came up with was to create something that would resemble a colonial era tavern.
Here in this photo you can see the beginning of that antique timber frame in the process of being assembled, but for now, I'd like to point out the "connector" part of the addition that stands between the log cabin and the timber frame.
The connector part of the house is framed out of all new wood and will provide the house with the square footage to…. enlarge the cabin's kitchenette into a full size kitchen… and created a sweet dining room… and two more bathrooms which will service the two new bedrooms that will be within the timber-framed area.
Originally posted 2015-05-27 20:43:31.