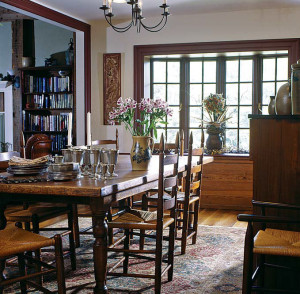 Here's the finished dining room which is positioned in the connector area between the little log cabin (which is to the right in this image) and the new timber frame section (which you can barely peer into on the left).
Notice the bow window in the background… and the antique heart-pine wainscoting underneath it?… I'll post a photo of it as it was salvaged next. You'll get a kick out of the "before" photo.
Originally posted 2015-05-27 20:52:50.