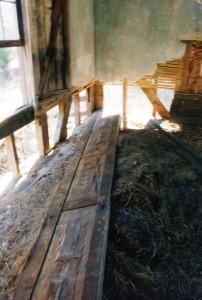 Here is the wainscoting that I used in the dining room, it was just laying there in that old dirty straw like a piece of discarded trash.
But, I could see from the backside that this was piece of fine woodwork, crafted from the best of materials, starting with an axe, then with adzes, and then on to hand planes, nearly two hundred years ago, by someone much more talented than I.
I didn't need to roll it over to be impressed… I knew I was looking at a treasure. I was practically shaking with anticipation.
Originally posted 2015-05-27 21:16:32.