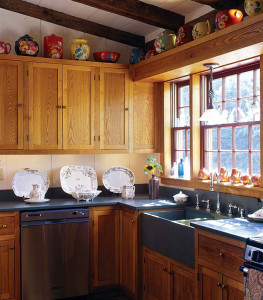 Here's a corner of the enlarged, upgraded, kitchen that adjoins the dining room within this "connector" area that is between the log cabin and the new/old timber framed addition.
We made the cabinets ourselves out of chestnut paneling that we salvaged from an old 1920's vintage home. The countertop and farm sink is made of green slate.
Not too shabby huh? 🙂
Ok… that ought to keep everyone happy for a while that wants to see what this home looks like inside… now let me get back to construction photos and tell the story behind the building of the timber frame section of this home…
Originally posted 2015-05-27 21:37:05.