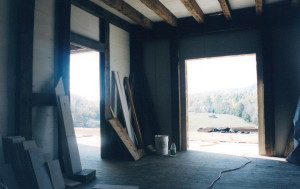 Here's the family room, all framed out.
The wall to the left is paneled in 1by6 new yellow pine… it being an interior wall, separating this room from the entry hall, it works great and is very attractive.
I love painted wood, it brightens a room, it showcases the antique wood better, and it's a bit showy… as in… "I've got so much wood in my house that I can paint some of it".
The ceiling above is made of tongue and groove 2by6's, also new yellow pine, which makes for a real solid floor… and it too is painted for the reasons mentioned before.
The end wall is an exterior wall which is the drywall side of stress skin panels, which are large pre-made sandwiches of foam insulation with drywall on one side and plywood on the outside. They provide the home with a quick, solid, sturdy exterior to the timber frame. We then will plaster the interior wall surface and paint.
Originally posted 2015-05-30 11:05:23.