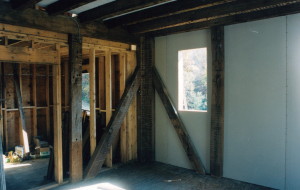 Here's a photo taken of the other end of the first floor of this timber frame section of the house. This room will become the master bedroom of the house.
I do love a first floor master bedroom. Those stairs get tiresome after a few hundred climbs up and down. lol
Notice the new framing off to the left, this is the area that will become the master bath.
One of the little tricks I do to lower costs on these "over the top quality homes" is make sure and use modern building techniques whenever I can… there is no need to make every room timber-frame or log… especially closets, baths, laundry rooms, etc.
It's funny, but I never see log cabin kit manufacturers or timber frame suppliers offer, or even mention, this idea of combining various building forms into one house… I wonder why?… is it because they are trying to make as much money as possible by selling more product? hmmmm
Originally posted 2015-05-30 11:31:08.