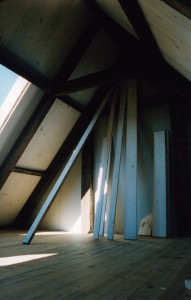 I had salvaged a two-story timber-frame that was nearing collapse, but my plans called for a steeply pitched one-story home.
I put back the first-story of the structure as she had originally been built and then I used all the bonus floor joists from the second floor to create a timbered rafter system.
This newly created space quickly became my favorite part of the home.
Originally posted 2015-05-31 13:27:57.