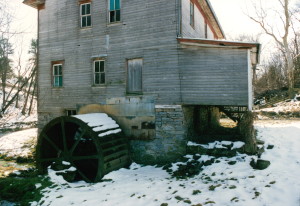 As you can see, "the chase" (where the water once flowed to power this Mill), had long ago filled in with soil and had partially buried the waterwheel. (We would later find that the bottom half of this wheel had rusted away).
Pre-Civil War barns and mills are rare in Virginia.
The Northern armies were ordered to burn all these structures as that War neared it's end. The story goes that a team of Northern men were sent to burn this mill, but when they found that the Southern men who were guarding the Mill were also members of the Masons, they agreed to let the Mill stand.
Originally posted 2015-04-22 13:56:23.