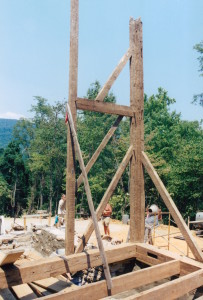 We reassembled the house frame in the opposite order that we took the home down.
Here's the first corner that went up.
Immediately you can see that this a Virginia frame. The corner braces run to the floor, like a root and not like a branch. And, the corner posts are carved out with an axe to be in an L-shape when seen from above… better known as "hog troughs" by those who practice the craft.
Originally posted 2015-04-10 14:25:51.