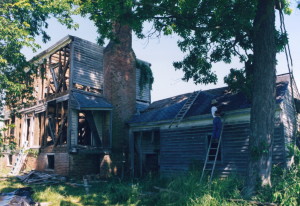 There is no finer roofing material to have on a house than slate that is mined out of Buckingham Virginia.
Period.
It is beautiful to look at and it lasts forever. And a roof that lasts forever, (longer even than copper), will one day eventually work out to have been the lowest cost roofing choice.
Actually, they say Buckingham slate has a life expectancy of 175 years, but I am here to say that I have salvaged it off of houses that old and the slate on those structures still rings true… just like a bell when you hit it with your knuckles.
This house had an addition off one of it's sides. There was no salvageable materials within this 20th century section… but we did harvest it's slate… by using these pieces, as replacements for missing and damaged slates on the main section of the house, we now had enough material to put a slate roof on the future wood-working shop.
Originally posted 2015-06-04 14:38:27.