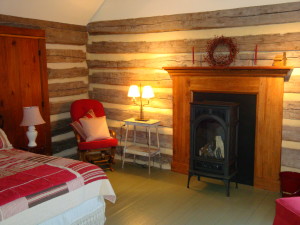 Here's the log cabin bedroom at Moriah that was created by eliminating the cathedral ceiling in the room below.
I made a wood mantlepiece out of vintage pine, similar to the one found in the log dining room downstairs. This mantle I sized to accent the gas stove that we bought to install here.
I generally discourage clients from having a gas stove, feeling that a wood fireplace is essential to obtaining the full potential of enjoyment that one can have in a log cabin.
But in the floors below this bedroom, here at Moriah, are found two woodburning fireplaces and one woodstove (that's enough fires for anyone to feed).
I felt it would be a rare event when wood would be hauled all the way up to this bedroom in order to enjoy a fire.
A flickering fire in a bedroom is a wonderful thing to experience. Even if it's gas.
And on the other hand, a fireplace that is never used is a shameful thing to see.
It was a good call to take this path. When it is cold outside and I am in this room, a fire is burning. Both attractive and functional. We have enjoyed this gas stove greatly.
Please take note of the painted flooring seen in this room. I bought new 2by6 pine lumber for the flooring here and painted the bottoms of that material in order to brighten the room below. I then painted the top of the installed flooring with three coats of durable floor paint.
I really like painted wood floors.
And, my feet… love… painted floors… oh, so comfy.
For years I have tried to encourage clients to have a room with a painted floor, and never once have I succeeded. Here, on this project, where I was in charge… I got to finally paint a floor… and everyone that sees it… loves it.
Originally posted 2015-04-06 21:39:46.