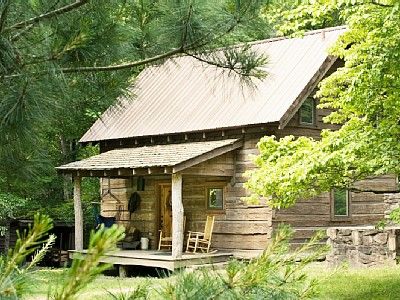 Such a wonderful cabin isn't it?
One unique feature of this cabin is the combination of a metal roof on the main cabin… and a wood shake roof over the porch.  I've seen plenty of cabins with metal roofing installed all over, and just as many with nothing but wood shingles.  I've also seen (and built) quite a few homes with a shake roof on the cabin and a metal one over the porch. But I don't ever recall seeing this reversed combination.
Both forms of roofing (metal or wood shingle) work well, and look great, on the steep pitch roof of a cabin like this. But on the shallower pitch roof of a porch, wood shakes can be prone to leaking. In many areas of the country a roof pitched as shallow as this, covered in wood shingles, would be forbidden by the building code for that very reason.
So, one has to ask… other than code considerations… and aesthetics… and roof leakage issues… is there any other reason to consider having, or not having, a wood shake roof over a porch?
Yes.. there is one…  metal roofs are loud… really loud, when you are outside under them during a heavy rain. The rain is all you will hear, unlike a wood roof which will be pleasantly quiet.
But, on the flip side of that coin, a lot of people like to hear the rain striking a metal roof and are often disappointed to find that by putting a metal roof on their well-insulated home that they don't hear the rain at all.  Whereas if they put a metal roof over the non-insulated porch, well, it might be loud outside under it… but inside the home the homeowners would experience the perfect volume level to hear that summer rainfall coming in from the porch area.
What's my recommendation? Metal, for sure. But then again…