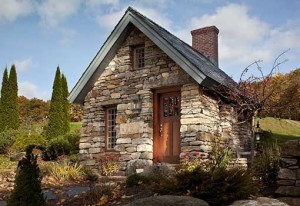 Oh my.
She is so fine.
When contemplating the design and construction of a home, the first decision to be made is "quality vs quantity".
The owner of this small stone home chose the highest level of quality. They could have had a vinyl clad home, twice as large as this one, for the same price.
It's a tough choice to make.
Living small is challenging, while living large is so tempting.
We naturally want both, quality and quantity, but few people have the financial resources for a large home built as well as it can be.
So, is quality worth the cost?