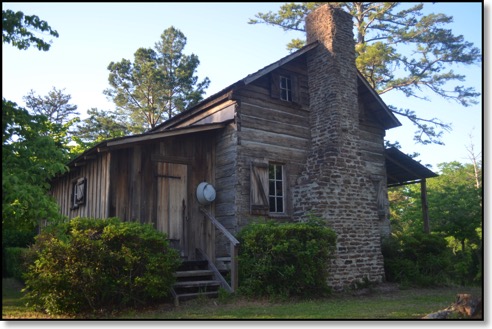 What a nice log cabin… (even though I didn't build it)… lol
If I had to guess I would say this cabin is likely about 20 years old and was built using antique logs. The growth of the shrubs, the mix of early 1800's strap hinges on the door with 20th century z-bracing on the window shutters, and a chimney without any crowning at the top, are all clues.
I've spent my career building cabins… I admire anyone that does the same… and I especially admire anyone that can build a cabin and leave no clues as to it's age (almost impossible to do).
But here the one clue that cries the most to it's age is the front porch roof… see how it extends beyond the log cabin where the two come together? I've never seen one like that on an old cabin… it draws the eye and once spotted distracts the viewer from fully appreciating  what would have been a nearly perfect project. The builder/designer of this cabin was focusing on the porch floor, not the larger porch roof that would be built above it.
The solution to this problem would have been to build the porch floor system shorter than the length of the cabin, much like you see in how the back addition to this cabin was built. I generally build the front porch two feet shorter than the cabin (a foot or so shy of the each end).