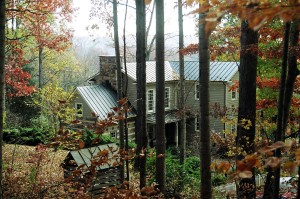 I thank each and every one of you for "tuning in" as I reminisce about my experiences building and restoring unique homes. It means a lot to me that there are so many others who share my passion for handmade houses.
My deepest hope is that my photos and comments might inspire others to build their dream home.
I plan to build my next home in the coming year or two and will give updates about that as it progresses. I can't wait for it to get underway… it's been over twenty years since I designed and built a home for myself. I think that I've learned a few things since, so there is good chance that it will be a special place.
Next up… this coming week… let me share with you the building of my last "from scratch house"… The Madison House.
(let me clarify myself a bit… I am currently living in a very special home… one that I took down and rebuilt… with many changes made along the way… it's a great place… and there is quite a story to tell about it too… but I didn't "start from scratch"… that is, with a piece of paper in hand… envisioning a home… rather, I started a with house that someone else built)
This photo is of the completed "Madison House"… built by me, for my wife and children, in 1992. My home for fifteen great years. Let me tell you all about it…
Originally posted 2015-03-23 17:11:15.