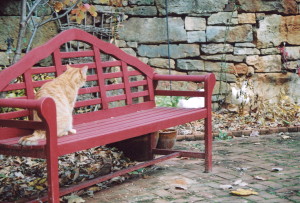 One of the many attributes of a stone wall is that they will create a whole new active environment. The addition of a dry laid stone wall to the landscape creates many new places where small creatures can "hide and reside".
It can bring a yard to life.
That can be a good thing if you get cute little furry chipmunks. Or a bad thing, if you get mice and snakes. It's a good idea if you live in the country, with a stone wall, to have good cat to keep things "in balance".
This is Woody, who is paying more attention to the sounds in the wall that he hears rather than to some nosy photographer.
Originally posted 2015-03-27 14:38:41.