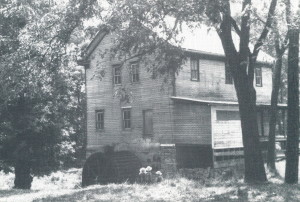 I like this old black and white photo that I was given of the Mill. The three small Mennonite boys seen near the water wheel, with their white hats on, are just so precious.
In an ideal world this Mill would have gone on being useful on this site forever. But, that was not to be.
The owner of this Mill had spent years contacting historical organizations, universities, and national and state parks about assistance with this structure. All of them offered him their opinions on what he should do with his non-existent time and financial resources, but none offered any of theirs.
So the time had come for either the fire department to practice their form of removal, or for me to do mine.
Originally posted 2015-04-22 16:08:08.