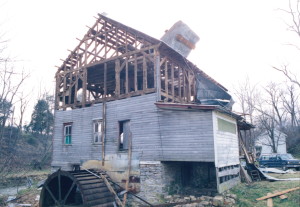 We loaded all of the materials and equipment that was in the Mill into a large tractor trailer and then started taking the Mill down.
We always start at the top and work our way down. It's safer and more efficient that way.
At this point I've made countless calls trying to find a new home for this Mill and have placed ads in various publications… "Rare opportunity to adopt authentic early 1800's Mill !"
Originally posted 2015-04-23 11:28:34.