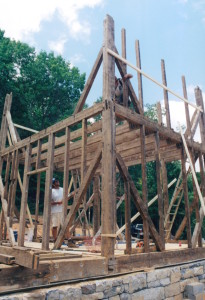 Here we have the first floor of one of the timber-framed rooms now standing, and we are busy putting in the smaller framing members that will all be secured once the top plate is installed.
Notice that we did have to do a patch on the bottom sill beam to repair the area below the main door threshold… a spot where rot often occurs, even on new homes.
Notice also that we numbered all these pieces with duck tape… a first for us, and it worked out pretty well.
I swear, duck tape can do anything!
Originally posted 2015-04-10 21:21:09.