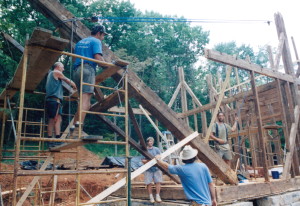 We re-erected this 200 year old timber-frame in the same way that we took her down… one or two pieces at a time.
We chose to raise by hand all of the vertical members, partially "for the experience", and partially, to honor the original builders.
When it came time to install the full length top plates, and then tie the structure together with the second floor joists, we brought in a crane.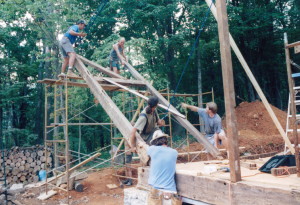 I imagine this house frame was originally lifted in place in large sections with the aid of many neighbors and perhaps a team of oxen. Today's insurance regulators wouldn't think highly of me if I had brought in any neighbors. And, I didn't have a fresh team of oxen so that option was out too.
Also, I had to keep in mind that I was putting up a different timber-frame than those men of old had assembled… mine was a treasured antique, still strong, but the flexibility of youth was long gone. I did not want to risk the loss of this structure by putting it through the stress of a complete wall lift.
And so, we lifted. We strained. We sweated. We groaned in unison. And, we loved every minute of it.
Originally posted 2015-04-11 16:06:57.