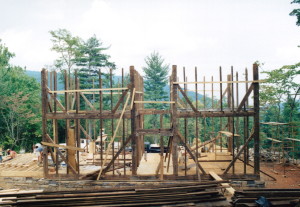 Here is a very important set of photos…
There is something in these photos that you really need to SEE. Can you spot it?
It's most visible in the first photo… the one taken straight on to the house.
At this stage of re-construction we have now set all the vertical members in place. The crane will soon arrive so that we can tie everything together.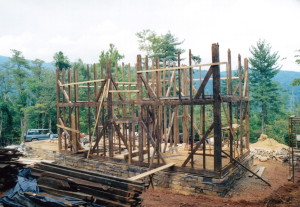 The frame will become much more attractive at that point and it will gain a great deal of strength, but the stage of construction that we see here should not be passed by too quickly… there is a secret to be revealed in the design and construction of many early American structures… one that will become much harder to spot as the house is completed.
Yes, the timbers are beautiful (and so is the view). Yes, Virginia corner bracing is incredible… who wouldn't feel safe in a home built like this? And yes, what a perfect combination of ceiling heights… ten foot ceilings downstairs and eight feet on the second floor.
So, let me give you a hint…
Remember the chestnut log barn re-construction that I shared with you a couple weeks ago?
In order for those men to create a large barn, they built two structures, each of manageable size for the men and the materials. They built those structures close to each other, and then connected them together with a top plate in order to create a large barn.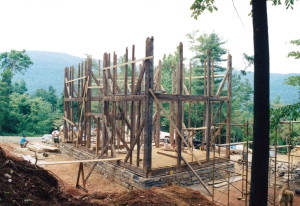 Well, that is what a Virginia farmhouse is! Two one room structures, each two stories high, that are built close to each other and then a connecting hall is built in between!
Cool huh?
Originally posted 2015-04-11 16:46:23.