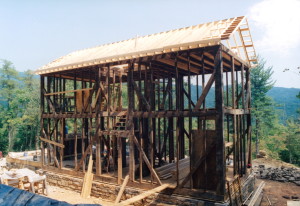 We put a new roof on top of the antique timber-frame that we built in Sugar Hollow.
I have found that old roof systems often have their share of "issues".
For one thing, there always seems to be a few rafters that are unusable… either rotten or broken due to rain getting in or perhaps a tree landing on the roof. So, it's rare to have a complete set.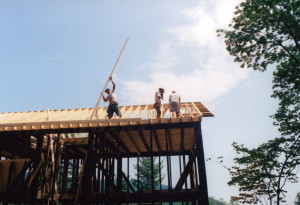 And, I have found that rafters are often "baked'. I guess having spent a couple centuries in an attic that that would be expected. They feel "dried out", light as balsa wood, and their ability to hold a tight grip onto a nail has severely diminished.
I have always been impressed with the excessive over-build in old houses. The floor joists, bracing, and walls in these antique treasures are often two to three times the size that they need to be, but for some reason the rafters on old houses appear to be too small.
I once took down an old workshop that had 24 foot long rafters on it, that were only 2by4's, with a low pitched roof, and it had a slate roof on it! Amazing… but it had stood for nearly a hundred years.
Maybe it's just me, but I like knowing that I have a very strong roof. I've never used pre-made roof trusses, preferring to hand pick the individual rafters myself.
My clients have never had a roof problem, nor will their children, nor their grandchildren, nor their great-grandchildren. I guess you get my point… when you build… build it so that it will outlast you.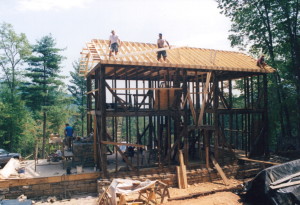 Originally posted 2015-04-15 12:05:03.