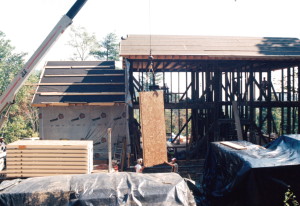 One by one by we covered the rebuilt Sugar Hollow timber frame with stress-skin panels.
The best way to describe these panels is by comparing them to ice cream sandwiches… the white center core is made of a high R-value foam, the inside layer is drywall which gives the interior a finished wall, and the exterior is some kind of laminated wood product which provides strength and a nailing surface for the upcoming siding.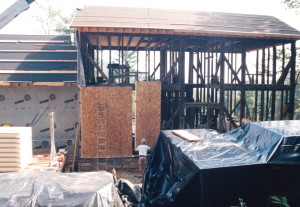 There are builders who will build homes entirely out of stress skin panels. I haven't tried that yet, but it does demonstrate the potential application of these products. So, by adding these panels to a home that is already strong we create a house that is two to three times the strength of any modern home.
I like everything about these panels except the fact that they "fatten up" old timber frames… adding nearly a foot and a half to the width of the house… but, if we want to see the antique timber frame on the inside, it's a price that has to be paid.
Originally posted 2015-04-16 14:13:33.