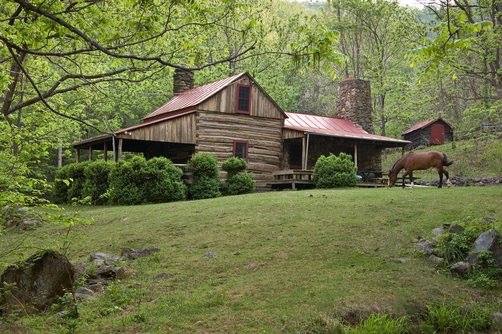 This attractive log home fascinates me.
One of the many design "rules" in building an attractive log home is to properly size the front porch of a cabin.
Through decades of observing  old log homes, and in building traditionally designed new ones, I have observed that…
A six foot porch, which is common on many new homes built today, is unheard of and impractical on a country cabin because it is simply too small to be useful.
Whereas, an eight foot porch is ideal, being visually appealing and offering plenty of room for rocking chairs, porch swings, and guests to stand on.
A wide ten foot porch is rare and often too large, appearing somewhat awkward and overbearing on any cabin other than the very largest of ones (20 feet or wider). These oversized "ten-footers" do offer the benefit of abundant exterior space, enough that a picnic table or even sleeping cots can be set up, and thus an outdoor space can practically become an exterior room.
As useful as these wider porches are I have often encouraged people to stick with the traditional eight-foot porches.
But here on this cabin we have what appears to be a unheard of fourteen-foot porch!
I can think of no other cabin like it.
If someone had told me of such a thing without seeing this image I'd probably have chuckled at the idea of how odd it must look.
But I would have been wrong… this cabin looks great!
Perhaps, rules are meant to be broken.
And, that when one breaks the rules, they need to be bold about it!