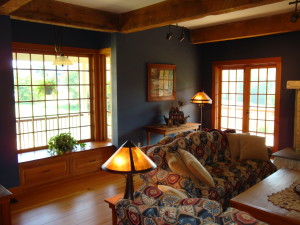 I added a seat to the large family-room window assembly.
The way the house was originally built this was an area where you would stand and enjoy the surrounding countryside with a bit of panoramic view. I thought that a seat here would make the space more inviting and cozy. And, as an added bonus, the addition of drawers below this seat created treasured built-in storage space.
All the doors and windows seen in this photo were custom-made out of heart-pine, by the original builder. Notice also the huge ceiling beams in this room… all salvaged from an old cotton mill out of the Shenandoah Valley.
Originally posted 2015-04-07 13:13:41.