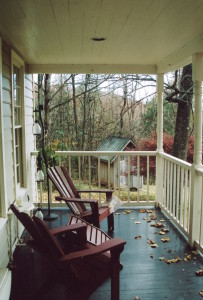 Let me share a few tips on how to make a small porch special.
Now, it doesn't hurt to have a great view from the porch… I'll share that view in my next posting… but the view isn't everything. A porch is a place where one can simply enjoy the outside world.
Make sure when you build a porch to use quality materials. The siding here is wood, no vinyl can be be found, other than the bird-feeder hanging on the other end of the porch. The floor is painted wood. The ceiling is also painted wood… I'm always amazed that some builders will use interior drywall for a porch ceiling.
One final note is that this view, looking down at this end of the porch had nothing to look at… so I built my chicken coop down there. Then I could enjoy viewing one of my weekend projects as well as keep an eye on my hens.
Originally posted 2015-03-29 16:58:49.