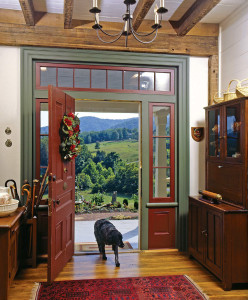 Here's my recipe for building a fine entrance to a new home.
Start with a nice view that will be outside your door.
Build a porch outside that door, one that will pull you outside to enjoy that view.
Build your home out of an old timber-frame, one that will give you the feeling of warmth and security.
Make sure and install old heart pine flooring, which is not only a pleasure to look at but to walk on also.
Then add an old entrance door unit to let you know that you are at home. (Make sure and paint it with some nice colors).
And then finally, get a good dog, one that will meander in and out at his leisure.
Originally posted 2015-05-29 13:33:26.