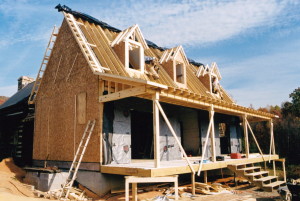 After we had attached the stress skin panels to the frame to create the outside walls, and we had framed the front porch and the dormer windows, the vision of a "tavern-inspired" home began to emerge.
Notice the three large openings onto the porch… the center one is for the old door unit previously posted. And, the ones on either side are for french doors that could be opened up on nice days to bring the outside in.
Originally posted 2015-05-29 18:52:35.